TOTALLY FORGOT THESE TWO!O______O i wuvled them so much xD
Introductin:
After beeing cut in two peter was in hell under Cabria,one of Lucifer's daughter,control leaving on earth two parts of his half-blood state.His human part,good.And his bad side,vampire.
Angel-Peama
Name: peama
age: She became mortal at 19.Peter's age
Type of Creature: Angel
Picture:
Character:
peama is innocent,soft,kind,mother-like,gentle,pacifc,trustfull,pure and ready tohelp the others.
She likes writing in her diary,beauitful things and flowers.
She's very sensible to temptation,darkness,blood,hate,jaelousy and treachery.
Powers:
Teleportation
Reading minds
telepathie
divination
seeing the future
turning into her human form
Backstory:
Peama came to life as Peter was cut in two by John Rolfe one of Claude's servants.She had for mission to help the vampires in the mansion to find her weakpoint,because loyal to her goal she was't allowed to tell them.if they wanted Peter back they had to find her and Kater's weakpoint.As Helena,a human of the Masion and also Peter' smother,found them she helped them to create a potion to bring him back.Just befor she disappeared she told Helena: don't worry.james will be a good king. Peama has not only the power of divination but also of seeing the future.

Demon-Kater
name: Kater
Type of creature: Demon of Satan
Picture: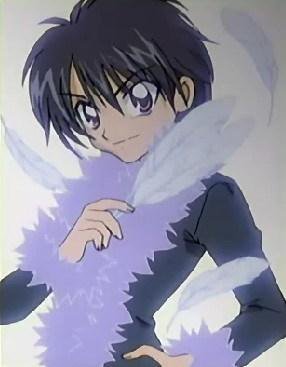 Powers:
Fire
shapeshifting
can bewitch persones
teleportation
telepathie
he doesn't have wings like Peama but he can fly normally
Character:
he's heartless,narcissic,energetic,tempted and ruthless.
He loves apples,having sex,bewitching people,smashing things,CREATING CHAOS darn.
He hates everything what reminds of happiness,joy,love and trust.
Backstory:
same as Peama just that he preferred staying like this,he didn't care about Peter actually.He had an affair with cabria like other demoness and forced her to torture him even more hoping he would die in Hell and have his life instead.He relucantely admited his weakpoint to the others and turned back to his normal place,Peter's soul.
their weakpoints was Cindy.Peter's girlfriend.She was everything to him.Peter's good side(Peama) wanted to protect her over anything and Peter's bad side(Kater) wanted to keep her for himself.As Helena found out Peter came back.
(I wish i could rp them again but I've to think about something....i dunt wanna loose peter >_o)



Posts

: 684


Join date

: 2012-09-22


Location

: Where cookies and corpses are!





Similar topics
---
Permissions in this forum:
You
cannot
reply to topics in this forum